Goodlette Arms Community Endures Hurricane Irma's 142 Mile Hour Winds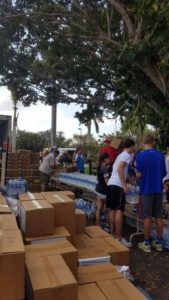 I felt safe, before the storm, during the storm, and after the storm.
-Richard Etienne, Resident
On September 10th, Hurricane Irma slammed into the Florida coast. On September 16th, the 650-mile wide storm finally dissipated, leaving 40% of the state without power and an almost $20 billion trail of desolation in its wake.
Many Floridians on the Gulf Coast initially took solace in the fact that they would largely avoid Irma's wrath. However, only days before landfall, the storm's predicted path changed, putting the Gulf directly in its crosshairs. For many, including the 200 residents of Full Circle Communities' Goodlette Arms senior living community in Naples, there was simply not enough time to escape.
Management was resolute in their drive to guarantee those 200 seniors would not have to brave Irma alone. Corina Pistenbarger, Full Circle's Vice President, flew from Chicago to Naples the Friday before the storm hit. Debbie Rahlf, Goodlette's Property Manager, joined with her two daughters to supply air mattresses, and even a pool floaty. Together, residents and management alike huddled together to watch the approaching storm from lobby windows.
The building lost power almost immediately. A large backup generator, acquired after Hurricane Wilma, helped to alleviate that burden.
A window on the third floor shattered. Air conditioning units were pushed in by the 142 mile per hour gusts, creating openings for wind and water to wreak havoc inside. Though management was able to assess some of the damage as the eye approached, they knew all they could do was wait.
Collier County, where Naples is located, ended up being among the hardest hit areas of the state. The storm caused an estimated $320 million in damages, leaving almost everyone without access to power, the internet, or phone service.
And yet, in the midst of absolute devastation, Goodlette remained in high spirits. Over eighty machines were brought in to dry the building's interior. Residents met with local high school students who donated food and water. Later, many spent hours in the lobby and community rooms, dancing and listening to music. Most of the time, there wasn't an empty chair to be found.