Emma O'Connor-Brooks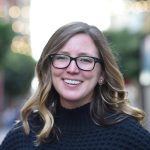 EMMA O'CONNOR-BROOKS,

project manager

Emma O'Connor-Brooks is a Project Manager, working with the Real Estate Development Team on all stages of housing development.

Prior to joining Full Circle, she was located in San Francisco, practicing affordable housing architecture at Mithun, a nationally recognized firm known for creating positive change through design. At Mithun, she also played a key part in their Research & Development team, co-authoring the Centering Health Equity framework for real estate practitioners. Her passion for affordable and equitable housing led her from design to development.

Emma received her Masters of Public Affairs from the University of California at Berkeley and holds a Bachelor's in Architecture from the University of Illinois at Urbana-Champaign.