Brainerd Park Apartments Celebrates Grand Opening
Eating well, staying active, and following our doctor's orders are key factors in staying healthy. But too often, we forget that perhaps the most fundamental determinant of our well-being is where we live – without access to affordable housing, everything else is irrelevant.
Unfortunately, a lack of affordable housing has become the new normal in the United States. According to the Institute for Housing Studies, Cook County alone lost an estimated 15,000 two- and four-flats since 2012. There are nearly 182,000 renters in the City of Chicago who need low-income housing but are unable to find any, as the total supply of affordable housing stock has decreased by 10.4% over the past six years.
Christian Community Health Center (CCHC) and Full Circle Communities (FCC) realized this is one disease whose cure could not be found within the walls of a clinic. To that end, in 2015, the two Chicago-based non-profits finalized a plan to bring 36 units of integrated supportive housing to a long-vacant site in Chicago's Brainerd Park neighborhood. Three years and $12 million later, the Brainerd Park Apartments finally celebrated its grand opening on September 28, 2018.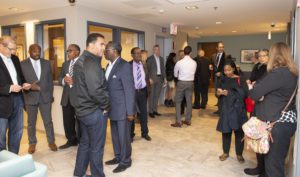 Located at 8920 South Loomis Street, Brainerd Park Apartments consists of one- to four-bedroom apartments targeted to renters earning between 30% and 60% of the area median income. Of the 36 total units, eight are specifically targeted to renters defined as "homeless" by the Federal Home Loan Bank.
The grand opening provided an opportunity for residents and community leaders to tour the building for the first time. For residents, Brainerd Park Apartments includes on-site management, a library, computer room, and community room. On-site resident service space is staffed by CCHC, where they assist residents in coordinating access to health and wellness services, employment services, and financial counseling. The development is located steps away from the Brainerd Park Library, as well as the Brainerd Park Metra station, which allows for commuters to travel to downtown Chicago in under 25 minutes.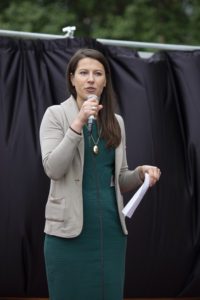 FCC also took time to honor the political, community and financial partners whose support was invaluable in making Brainerd Park Apartments into a reality. Lindsey Haines, FCC's Vice President of Real Estate Development, said: "this development has been many years in the making, and we are grateful to the City of Chicago, Alderman Brookins Jr. and our new neighbors in Brainerd Park for their support and encouragement."
The day ended with a massive block party for all Brainerd Park Apartment's residents and neighbors. Events included a hot dog cookout and a bouncy castle for the kids, which at times was even enjoyed by some of FCC's staff.
In all, the event was a great success, and enjoyed by everyone who attended. FCC is happy to add Brainerd Park Apartments into their portfolio, and is looking forward to continuing access to affordable housing in Chicago and beyond.