Join Me For Dinner!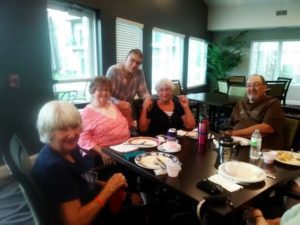 There are few things in life more comforting than sharing a homemade meal with your friends or family. Because so many of us are buried by the restlessness of everyday life, we don't often find the time to do it as often as we should. Fortunately for the residents of The Arbor at Lindale Trail, Full Circle Communities' senior living community in Marion, Iowa, they can look forward to sharing that home cooked meal each month, thanks to one enthusiastic resident, Dorris.
Dorris, affectionately called "Dorris with to r's" by her friends, read about The Arbor in a local newspaper during its construction. In her own words, she "fell in love with it at once" and moved in shortly after it opened its doors in late 2016. She loves the amenities it provides: a computer room and library, activities planned by the Heritage Area Agency on Aging, among many others. But it was the spacious community room, overlooking Marion's scenic Lindale Trail, which reawakened her creative muse.
Dorris has been cooking since she was a child, and one of her biggest passions has always been finding new recipes and sharing them with others. Almost immediately after moving into The Arbor, she suggested cooking a meal for her fellow residents, whom she fondly calls her "new family."
Now, Dorris cooks a giant communal dinner every month, where she's routinely joined by over ten other residents. When asked, Dorris admitted that she doesn't have a favorite meal – instead, she makes a point to cook something she doesn't normally eat, like rhubarb swirl cheesecake or oven baked tenderloins. Her Arbor family is always elated to share in her newest creations.
There is always an open chair at the table for anyone who wants to join. Dorris hopes that it will be you.