McHenry Celebrates Construction Start at Pearl Street Commons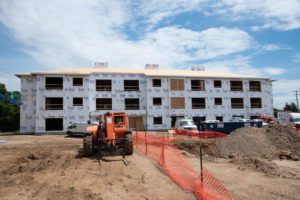 June 8, 2018
MCHENRY, IL – On Friday, June 8th, HUD Region V Administrator Joseph Galvan, representatives of Congressman Randy Hultgren's office, Illinois State Senator Pamela Althoff and McHenry Mayor Wayne Jett joined Full Circle Communities and financial, service, and community partners to celebrate the commencement of construction on Pearl Street Commons, a development that will provide much-needed affordable, service-rich housing targeted to veterans and persons with a disability.  With strong support from the City and County of McHenry and the Illinois Housing Development Authority, the building is scheduled for completion in winter 2018.
The $7 million development, located at 3512 Pearl Street in downtown McHenry, consists of 25 one- and two-bedroom apartments, all of which are accessible or adaptable, and targeted to veterans and persons with a disability. The building will be Enterprise Green Communities certified and include a library, computer lab, community room, and outdoor recreation amenities. Local service providers TLS Veterans and OTR will provide social services at no charge to the residents.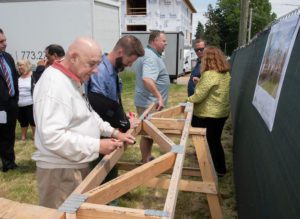 Joshua Wilmoth, President and CEO of Full Circle, says that McHenry has been extremely welcoming of this development.  "We are exceedingly proud of this, our second development in McHenry County, and are grateful for the support of HUD, IHDA, McHenry County, the City of McHenry and ComEd.  Most critically, we are excited to bring much-needed housing for the many veterans and persons with a disability who call McHenry home."
Full Circle Communities is a Chicago-based philanthropic non-profit with the mission of expanding access to affordable housing through preservation and development, thoughtful design, and the provision of significant and contextual services. Full Circle dedicates 75% of their project cash flow to providing services for their residents.  Along with Pearl Street Commons, Full Circle is currently constructing a 36-unit development for families in Chicago's Brainerd Park Neighborhood, and is in the midst of developing a 36-unit development for veterans and persons with disabilities in Dubuque, IA as well as their first property in the state of Michigan.